Jaki ltd. produces suppressors for hunting and sport shooting
The manufacturing of Jaki suppressors started two decades ago in 1996 when suppressors first appeared in competitive shooting. By that time the founders of Jaki ltd., Jussi and Aki Nyyssönen, started to desing and manufacture suppressor for their own competitive weaponry. Since then the the suppressors have been developed to meet the demands of both hunters and sports. The experience gained over 30 years of sports shooting have provided with valuable information for both development and demands of suppressors.
HERE IS OUR LATEST PRODUCT CATALOGUE IN ENGLISH: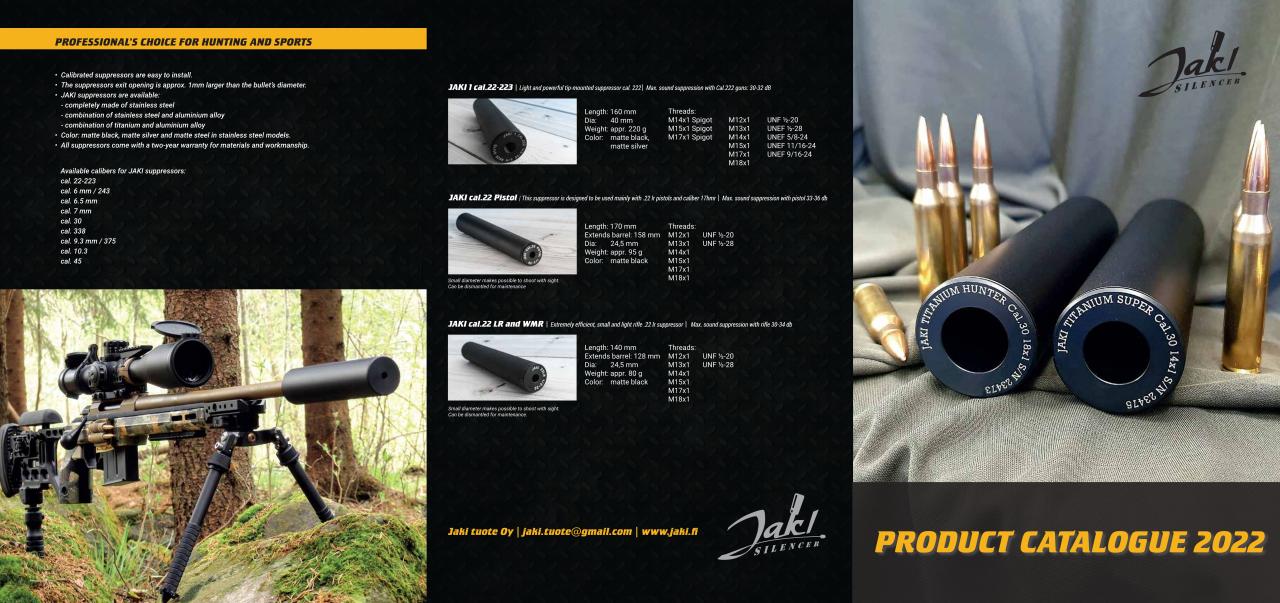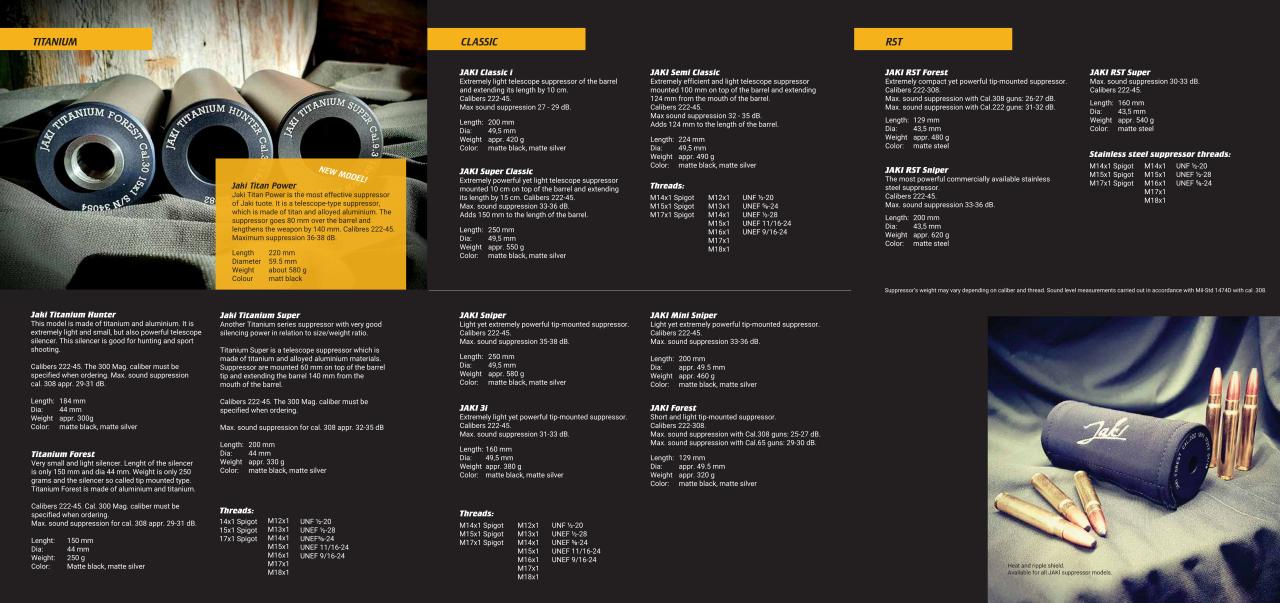 HERE IS OUR LATEST PRODUCT CATALOGUE IN GERMAN: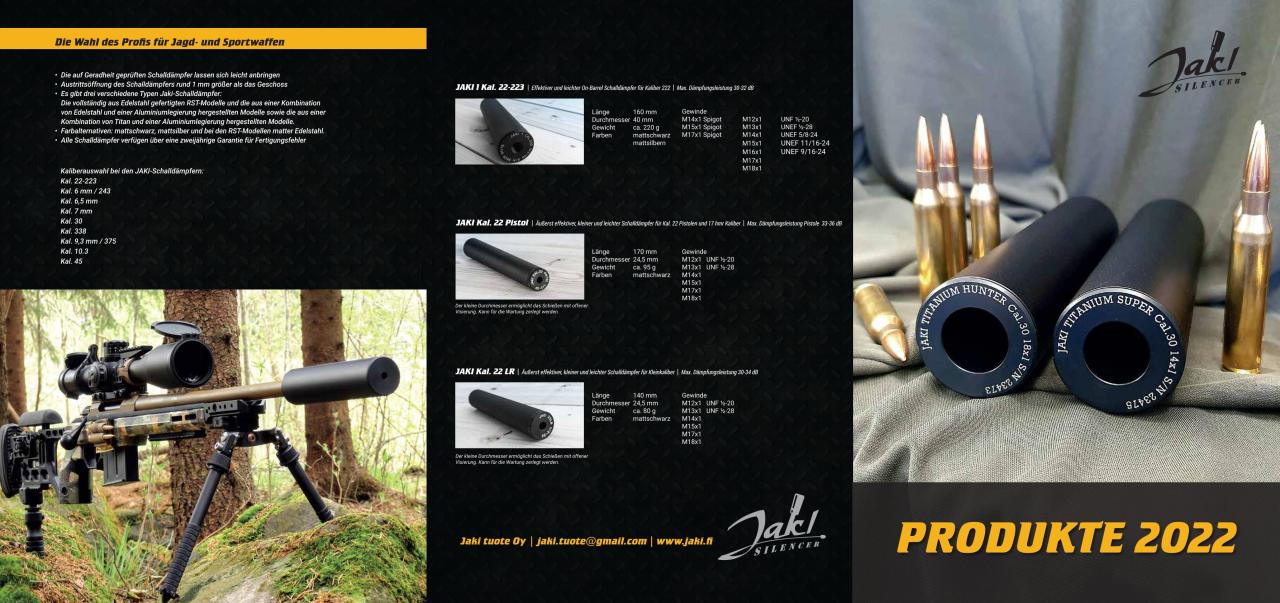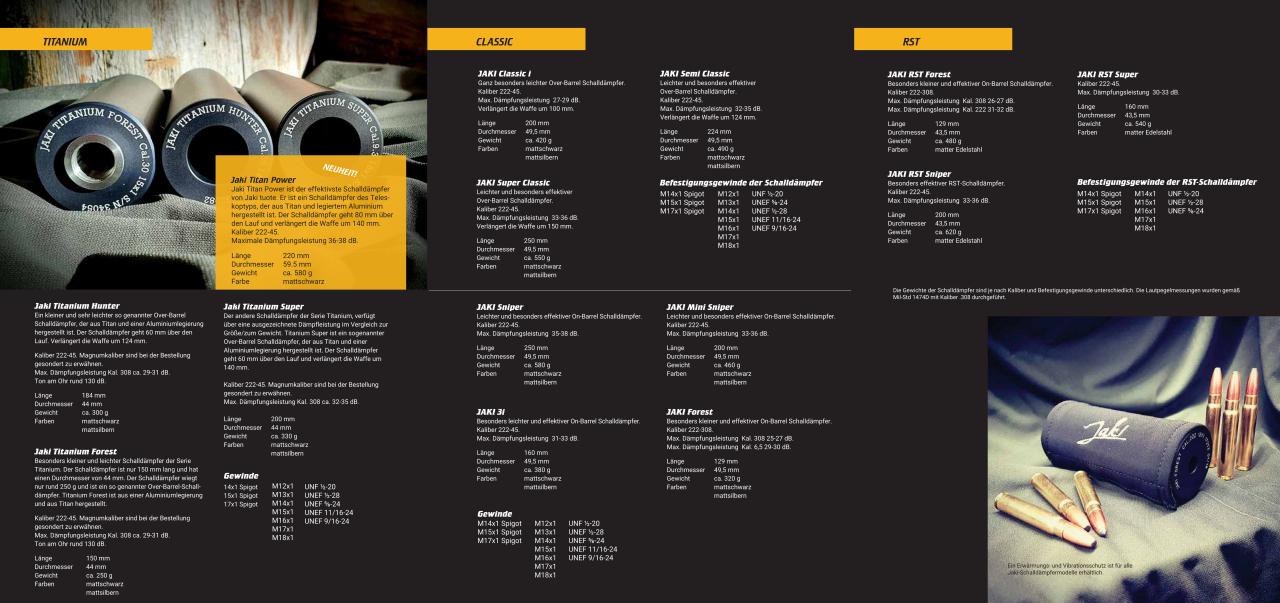 Improved and updated range of Jaki suppressors
2020 update: New Jaki Titanium serie silencers available! There are now three new Jaki Titanium silencer on sale: Jaki Titanium Hunter, Jaki Titanium Super and Jaki Titanium Forest. These silencers are available to all calibers from cal.222 to 45. They are ultra light weight and made of titanium and aluminium.
2019 update: Jaki Titanium Hunter available spring 2019. This model is constructed with titanium and aluminium. It is extremely light and small, but also powerful telescope silencer. This silencer is good for hunting and sport shooting.
For the latest additions to the Jaki suppressor lineup there are lightweighted and exteremely powerful suppressors for cal.22 lr rifle and cal.22 pistol suppressors and for larger guns the Jaki Semi Classic suppressor. Product development focused on improving the suppressor efficiency, with outstanding results. At the same time, a number of stainless steel components were added to aluminium suppressor internals, which increases the suppressor service life when in frequent use. Stainless steel suppressors have belonged in to the Jaki suppressor lineup with aluminum suppressors since 2013.
One major development is the addition of three stainless steel suppressor models to complement the existing range of aluminium products. At the same time, a new finishing technique adds a touch of style and elegance to the suppressors. Finishes for aluminium suppressors are available in matte silver and matte black added with smooth black finish. Stainless steel manufactured RST suppressors come with matt finish.
The Jaki Sniper is a powerful suppressor that has outperformed all other makes in suppressor tests in Finland and abroad. In 2013 and 2014 Jaki suppressors have been rated to be the most effective and exceptional for their sound suppression levels by two significant publications; Metsästys & Kalastus-magazine and Jakt&Journal-magazine. Based on these comparisons and in-house testing, the Jaki Sniper, Jaki Mini Sniper and Jaki RST Sniper are the most efficient suppressors currently available on the market.
Our products are available both directly from Jaki Tuote Ltd. and from several retailers throughout Finland.